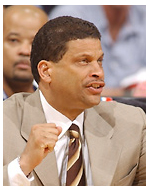 Philadelphia 76ers President and General Manager Ed Stefanski announced that the team has relieved Eddie Jordan of his head coaching responsibilities.
Effective immediately, the team will begin its search for a new head coach.
"Decisions of this nature are never easy, but I am making this change because I didn't feel significant progress was being made on either end of the court," Stefanski said. "As the season progressed, it became increasingly clear to me that this was necessary in order to provide a new direction for our team and gain more continuity."
Jordan was named the 23rd head coach in team history on June 1, 2009. In one season as head coach of the Sixers, Jordan compiled a 27-55 (.329) record.