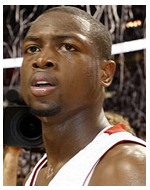 Dwyane Wade wants no part of meeting anybody with the last name Gotti. So when both he and John Gotti's grandson, Carmine Gotti were partying in New York City's meatpacking district. Wade refused to obliges Gotti's request to meet with him for possible fear of sleeping with the fishes.
"Gotti was celebrating his birthday upstairs and was excited to hear Wade was downstairs. He headed down and asked to meet Wade, who responded, 'There's no way I'm meeting the Gottis or having my photo taken with them.' Gotti's security guard got into a scuffle with Wade's. Gotti then headed back to his friends looking visibly upset, and Wade, who felt uncomfortable with the situation, decided to leave."
D-Wade has a huge pay-day coming this summer and if he were to wake up dead wrapped up in a carpet at the bottom of the Hudson. It would be super tough for him to collect his money.
However if you're a New York fan, you probably wouldn't mind if some day Gotti called upon Wade to do a service he could not deny — to play for the Knicks.
H/N NY Post