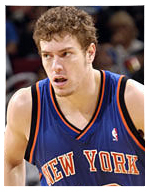 David Lee is getting tired of playing center for the Knicks and I'm getting tired of watching him play center for the Knicks. Despite finishing with a more than respectable statline of 23 points and 18 rebounds against the Chris Bosh-less Raptors Friday, the outcome was all too familiar — a loss.
"I'm doing my best down there at 6-9 to contest shots," Lee said. "I'm going to try to do better, control the paint better. A lot of times I'm playing a guy 5 inches bigger than I am and 50 pounds heavier. It's something I can definitely get better at. We have 21 games left and I'll be at the 'five' and see what happens. I'm doing all I can do."
With one more loss the New York Knicks will secure their ninth straight non-winning season and by playing Lee at the center position it's only a matter of time. However on a bright note, Eddy Curry who has been sidelined since Dec.17th  is scheduled to make a return — again and could see some minutes at the center spot as early as tonight against the New Jersey Nets.
H/N NY Post