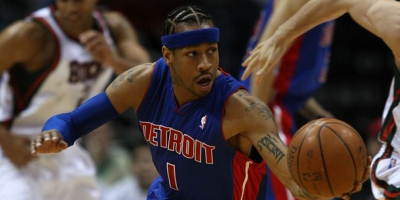 Allen Iverson will miss three weeks with a partial tear in his left hamstring, the Grizzlies announced before Wednesday's preseason game against the Oklahoma City Thunder. That means Iverson will be sidelined for the rest of the preseason — and his availability for the team's regular-season opener against the Detroit Pistons on Oct. 28 is in jeopardy.
"Very disappointing," said Iverson, a 10-time NBA All-Star and one of the team's key offseason acquisitions. "My whole thing is trying to make something positive out of a negative situation, and the way I see it is, I'm glad it's happening right now than during the season. So that's the only positive I can take out of the whole situation."
Iverson suffered the injury coming to a jump stop during the team's open intrasquad scrimmage at Birmingham Southern College on Sunday.