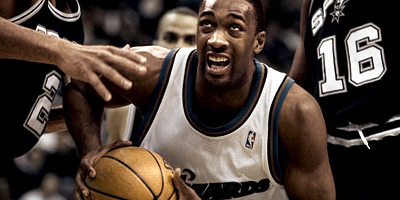 Since Obama was elected President of the United States (sweet!), I've made it a point to answer my phone by saying "Obama" instead of "Hello", because that's how I roll. Gilbert Arenas has taken his Obama love a step further and got some ink to commemorate the historical presidential nomination according to the Washington Post.
"Arenas has decided to show his permanent support of President-elect Barack Obama with a tattoo. Arenas had the words "Change We Believe In" tattooed onto the fingers of his left hand in cursive writing. Then, Gilbert showed the outside of his pinky finger, which had "44" inked on it.
Arenas shortened Obama's campaign slogan, "Change We Can Believe In," choosing not to add ink to his thumb. Arenas has "change" written on the outside of his index finger; "we" on the inside of his middle finger; "believe" on the inside of his ring finger; and "in" on the inside of his pinky and "44" on the outside of his pinky."
Arenas better save the other pinky for Obama's second term…ya I said it…what?