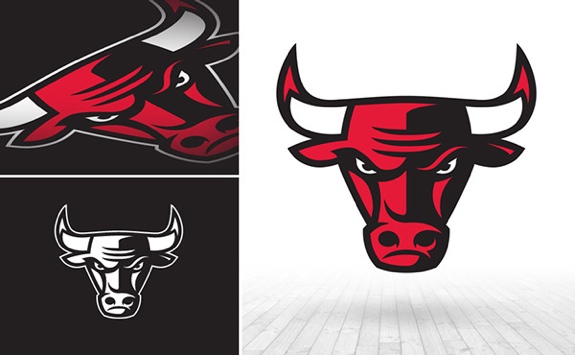 Graphic Designer Quentin Brehler from Quincy, MA gave a subtle update to the iconic Chicago Bulls uniform and logo that honors the past championship glory yet brings the new era of Windy City basketball into the future with a heavy focus on the bloody horns.
Key Uniform Attributes
CITY OF BROAD SHOULDERS
Chicago is a gritty industrial town that represents hard work and determination.
NECKLINE BROW
A bull has strong ridges over his eyes that protect him during a fight. This 'brow' will wipe away blood, sweat and tears during battle on the hardwood.
BULL HORNS
They intimidate and strike fear into anyone that dares challenge a bull.
HORNS HIGH
A proud bull will lift his head high in triumph.
DIAMOND HORNS
The classic diamond shape has been updated on the shorts to resemble sharp horns.