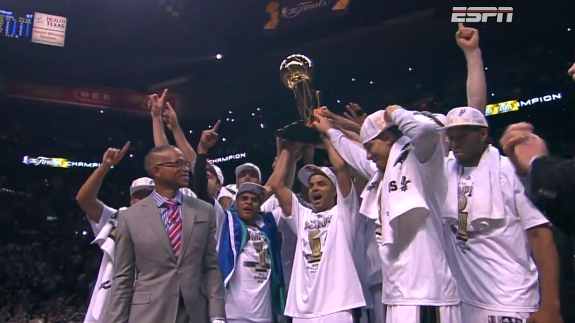 After losing to the Heat by the narrowest of margins last year. The San Antonio Spurs exacted revenge on Miami to collect their 5th NBA title playing textbook team basketball. Lead by the game plan laid out by coach Gregg Popovich.
"I told my team we looked exactly like we did two years ago when we won the first two against OKC and then they won four in a row because we stopped moving the ball," he said Popovich. "The ball didn't move, it didn't change sides. And that's what the game looked like in the first six or seven minutes of the game."
15 years removed from winning his first title with the Spurs. Hall of Famer Tim Duncan will look back at this latest championship win with the most pride.
"It is sweeter than any other," said Duncan, who became the first player to start for three different championship teams in three decades. "Whether it be because of the time frame, because I'm coming towards the end of my career, because I can have these two (his children) here and really remember it and enjoy the experience, all of those things make it that much more special."
Hands down, this was the best championship team I've seen in a very long time.