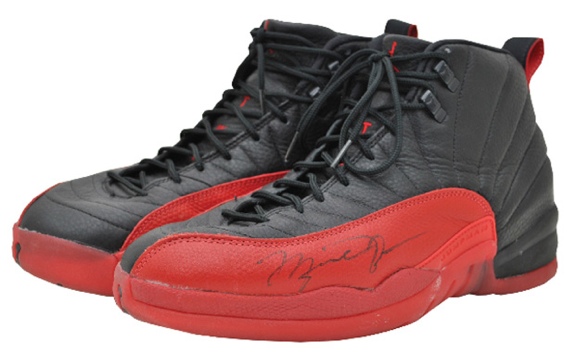 Today the shoes Michael Jordan played his famous "flu game" in during Game 5 of the 1997 Finals against the Utah Jazz has sold for $104,765 at auction to an unidentified bidder with very deep pockets. The shoes were given to former Jazz ballbay Preston Truman. Who developed a relationship with Jordan by bringing him his pregame traditional snack of applesauce during the 1996-97 season. On the night of the "Flu Game," Jordan gave him his autographed game worn Air Jordan 12's as a thanks.
"I have looked at the shoes maybe four times since putting them in a safety deposit box 16 years ago," Truman said. "I would go years without even thinking about it. … I just didn't see the point to something so cool and a part of NBA history sitting at my bank anymore."
The previous auction record for a game worn pair of shoes was $31,070 for a pair of Jordan worn shoes from his rookie season.