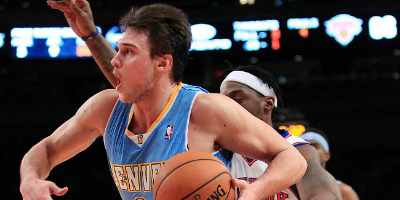 Breakout Nuggets forward Danilo Gallinari agreed to a four-year contract extension according to the Denver Post.
"It was easy to say 'Yes' to this contract," Gallinari said at today's Nuggets shootaround. "It's very nice because we've been playing very well. We have a lot of very good young guys, very unselfish players and I'm looking forward to play with this team this year and with a lot of the guys in the next few years."
After losing Carmelo Anthony, Chauncey Billups and other key players in a lockout wait to China. Denver is committed to building around a young core of players that includes Gallinari who is having a career year averaging 17.4 points and 5.2 rebounds per game.