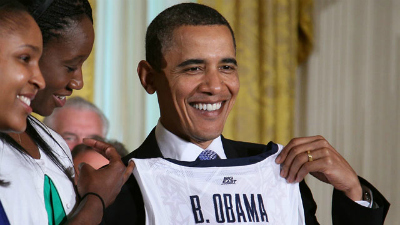 Well that's cool. On his presidential website, Barack Obama announced the first annual Obama Classic Basketball Game in Washington, DC and some of his favorite high tax bracket friends will be playing in support of the Obama Victory Fund.
Confirmed to play:
Ray Allen – Carmelo Anthony – Chris Bosh – Vince Carter – Tyson Chandler – Jamal Crawford – Kevin Durant – Baron Davis – Patrick Ewing – Derek Fisher – Rudy Gay – Blake Griffin – Tyler Hansbrough – Dwight Howard – Juwan Howard – Antawn Jamison – Dahntay Jones – Brandon Knight – Kevin Love – Jamal Mashburn – Cheryl Miller – Reggie Miller – Alonzo Mourning – Dikembe Mutombo – Chris Paul – Quentin Richardson – Doc Rivers – Steve Smith – Jerry Stackhouse – Amare Stoudemire – Tina Thompson – John Wall – Russell Westbrook
If you didn't know. The Obama Victory Fund is a joint fund-raising committee that supports both President Barack Obama's 2012 re-election campaign and the Democratic National Committee. Tickets will range from $100 – $5,000 per person, so you better save up.