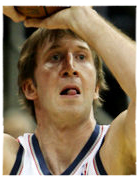 The Boston Celtics have won the Troy Murphy sweepstakes over the Miami Heat, and will get the hardly used fresh legged forward for a deep playoff run. So no, he will not be taking his talents to South Beach.
Last Wednesday the Warriors acquired Murphy in a deal for Brandan Wright and Dan Gadzuric going back to the New Jersey Nets.
However almost immediately, Murphy was bought out by Golden State to become a free agent, leaving him to pick his choice of interested contenders. Most notably Boston and Miami.
Murphy only played in just 18 games with New Jersey.