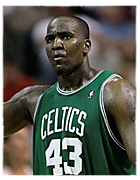 First Kendrick Perkins was happy cause he played for the Boston Celtics, then he was sad cause they traded him (frowns) to OKC, now happy days are here again cause the Thunder broke him off with a deal worth $34.8 million over four years.
"It kind of felt like the worst day of my life when I got traded from the C's," Perkins said. "But when I got here … everything just kind of blew me away. Overwhelming. The organization is first class," Perkins said. "I'm impressed with everything … how things are handled here. Great staff. Just unbelievable."
Argue if you want, but Perkins is worth every penny for a team that needs to get past the Lakers eventually to break through deep into the western conference playoffs. I just wonder if he smiled when he signed his extension, you're right — probably not.
H/N Oklahoman