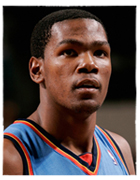 According to legend, Kevin Durant is a tad tall to be Santa Claus, but that didn't stop him from destroying the popular myth that "good ol' Saint Nic" can't win a scoring title and bring joy to kids all over the world — or at least in Oklahoma City.
Over the weekend, about 120 foster children in OKC got an early Christmas surprise from Durant when he paid a visit to their foster home with backpacks filled with presents for each kid. Each kid received an iPod shuffle, Thunder-themed Skullcandy headphones and Nike gear. As part of his annual "Kevin's Christmas" charity event, KD also gave the foster home an Xbox 360, Nintendo Wii, games for each plus a television.
"I just wanted them to feel special on Christmas," Durant said. "As a kid, you really don't know the significance of what Christmas really means except for getting gifts and being joyous around this time. So, I want them to feel special. Hopefully, this is something that they're always going to remember for the rest of their lives. I'm happy to say I was a part of that."
Well played Mr. Durant!
H/N Washington Times