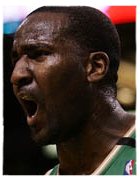 It's a known fact that Kendrick Perkins has never smiled a day in his natural-born Celtics life and that's a fact right up there with the earth being round. One unknown fact about Perk, is that he's the captain of the C's D according to himself of course.
"OK, listen," he said, "I'm going to put it like this here: I can't do what Shaq is doing, and Shaq can't do what I do. I can't do what Jermaine does, and Jermaine can't do what I do. So the things that they bring to the table are different from what I bring to the table. See what I'm saying?

"At the end of the day you can say what you want, but I'm really the captain of the defense," he said. "And that won't change."
Nobody with the last name O'Neal can do what Perkins does, and many folks think if the Celtics had Perkins in Game 7 of the NBA Finals. Kobe Bryant and the Lakers would still be waiting for another shot to get even for how the 2008 NBA Finals went down.
H/N Boston Globe