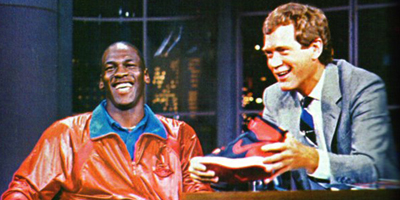 In his sophomore season back in '85-'86, Michael Jordan only played 18 regular games due to a broken ankle suffered just three games into the schedule. Chicago Bulls management wanted him to sit out the season, but he insisted on coming back to lead the Bulls into the playoffs.
The Bulls got swept in the first round, but not before Jordan scored a playoff record 63 points against the Boston Celtics, prompting Larry Bird to say "He is the most exciting, awesome player in the game today. I think it's just God disguised as Michael Jordan."
In his downtime, 23-year old Michael Jordan decided to make an appearance on the David Letterman show in the reddest track suit you'll ever see. The future legend talked about school, coming back from injury, dunking, his first pro coach Stan Albeck getting fired and all the products he represented like: McDonald, Coca-Cola, Chicagoland Chevrolet, Johnson hair care products, Guy Laroche watches and some fancy Nike shoes called the Air Jordan — I wonder if that ever took off in the marketplace???
Jordan also talked about retiring at 32 years-old to join the PGA tour, I guess that dream was delayed by dominating the NBA. Priorities, priorities.