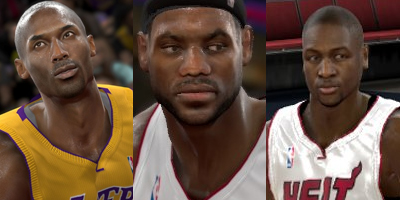 The closer the release date comes for NBA 2K11, the better the news leaked out about it gets. The last nugget of awesome released today by the good folks over at 2K Sports, was the player ratings of every starter in the game. Goody, goody, gum drops indeed!
Here are some quick NBA 2K11 roster facts:
-The guys that made the 2010 all-NBA first team LeBron James (97), Dwayne Wade (97), and Kobe Bryant (97) are tied for the highest-rated in the game. While Kevin Durant (91) and Dwight Howard (88) are rated respectively lower.
-Chris Bosh has a rating of 87 and so does Rajon Rondo.
-The all-NBA second team ratings break down like this: Steve Nash (85), Deron Williams (92), Carmelo Anthony (93), Dirk Nowitzki (83), and Amare Stoudemire (86).
-Potential rookie of the year candidate John Wall (81) has a slight edge on fellow rookies Blake Griffin (76) and Evan Turner (76).
-2010 Rookie of the Year Tyreke Evans has a 82 rating, 2009 Rookie of the Year winner Derrick Rose has a 85 rating.
-Manu Ginobili does not start in the game
-The Miami Heat and the LA Lakers have a combined rating of 411. While the defending eastern conference champion Boston Celtics have a combined rating of 401.
-The New Jersey Nets who had the worst record in the league last year, have a combined rating of 365.
-The oldest starter in the league Jason Kidd has a 83 rating.
-Pacers sophomore guard Darren Collinson has a rating of 80, while his team Josh McRoberts has the worst starters rating of 54.