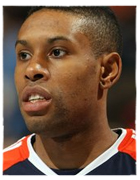 CJ Watson might have got himself into a potentially face shattering beef with boxing champ Floyd Mayweather Jr. At the center of the bad blood between the two athletes, is Mayweather's ex-girlfriend Josie Harris.
According to police reports, Mayweather assaulted Harris after reading text messages on her iPhone from CJ Watson of the Chicago Bulls. Harris reportedly admitted to the Mayweather that she was involved with Watson, after he asked "'Are you having sex with C.J.?' to which she replied "'Yes, that is who I'm seeing now.'"
At that point Mayweather began to assault Harris, the mother of his three kids and allegedly threatened to kill both her and Watson.
"'I'm going to kill you and the man you are messing around with… I'm going to have you both disappear,'" Harris quoted the boxer as saying.
Harris was taken to Southern Hills Hospital for treatment of "minor facial injuries and a sore left arm." While Mayweather was later arrested in Las Vegas on suspicion of grand larceny for taking Harris' iPhone and domestic battery. After posting bail, Mayweather was later released from the Clark County Detention Center.
H/N TMZ