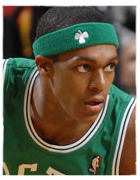 Rajon will not be Rondo-ing for Team USA in the FIBA World Championships in Turkey this summer. Instead Rajon Rondo chose to step down from the team due to "some family matters to attend to and some things to take care of before the NBA season."
Of course, the fact that Rondo collected a DNP when the U.S. faced Spain on Saturday after he started the previous two exhibition matches for his country — probably had something to do with his decision too.
Prior to stepping down from the team, Rondo thought he would be the final roster cut after watching the entire Spain game from the bench and told Chris Sheridan "I think I'm on the bubble, just looking at the obvious — I got a DNP last game. That pretty much speaks for itself." Derrick Rose will offically man the starting point guard spot for the U.S. and Russell Westbrook will be his back up.
The final 12-man USA roster includes: Kevin Durant, Derrick Rose, Rudy Gay, Lamar Odom, Chauncey Billups, Danny Granger, Russell Westbrook, Eric Gordon, Stephen Curry,Kevin Love, Tyson Chandler and Andre Iguodala.