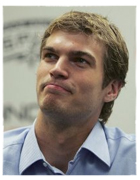 The Spurs signed Spain centre Tiago Splitter on Monday, three years after San Antonio picked the heralded six-foot-11 Brazilian star whose expectations will likely be as high as any Spurs newcomer in recent years.
"We're very fortunate to be adding one of the best players not playing in the NBA," Spurs general manager R.C. Buford said before introducing Splitter. But Buford also sought to make Splitter's impact realistic.
The 25-year-old was MVP of both the Spanish League regular season and finals while leading Caja Laboral Vitoria to a second championship, averaging 15.4 points and 7.1 rebounds. He has widely been regarded as one of Europe's best big men.
But the 235-pound Splitter still has room to grow physically. And in a franchise built by David Robinson and Tim Duncan, the bar for big men in San Antonio is high as anywhere in the NBA.