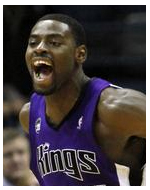 From the not so shocking file.
First year Sacramento Kings guard Tyreke Evans was named NBA Rookie of the Year beating out the Bucks Brandon Jennings and Warriors Stephen Curry to win the honors.
Evans is only the fourth rookie to average at least 20 points, five rebounds and five assists per game joining Oscar Robertson, Michael Jordan and LeBron James in the accomplishment.
Drafted fourth overall in the 2009 draft by the Kings out of Memphis. Evans finished his inaugural NBA season with averages of 20.1 points per game, 5.8 assists per game and 5.3 rebounds per game.