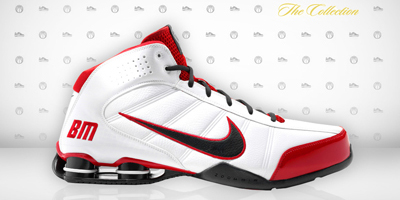 This summer which started early for the Chicago Bulls because of LeBron James' right arm and a tad by his diva left. Only means that Brad Miller can now shoot things on the 900 acres of land he owns near Kendallville, Indiana.
Due to free agency, it's a toss-up if Miller will return to Chicago next season, but don't let that stop you from copping his signature Nike Shox Visions. There are three versions of his shoe that are all true to the Bulls colorway, have his initials on the outside heel and a freakin'Â Turkey on the inside heel as an ode to the think he likes to shoot.
That is definitely keeping it real BM!
Pics of the kicks after the jump.