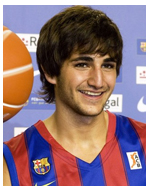 Ricky Rubio who was most recently seen in North America not joining the Timberwolves, has won the Euroleague Rising Star Trophy with Regal FC Barcelona.
Think about the trophy as the Rookie of the Year award overseas open to all Euroleague players, who were under the age of 22 on July 1 of the summer before the season started that probably enjoys siestas.
The Rising Star Trophy has been around for six seasons and past winners of the trophy are Danilo Gallinari of AJ Milano was the winner in 2008 now with the Knicks. Rudy Fernandez of DKV Joventut in 2007 now with the Blazers, Andrea Bargnani of Benetton Treviso now with the Raptors, Erazem Lorbek in 2006 and Climamio Bologna, in 2005.
So yes, it does sucks to be Erazem Lorbek or Climamio Bologna.

"It's an honor to be chosen for this award, above all when a competition as good as the Euroleague recognizes you," Rubio said in Barcelona on Thursday. "It really makes you proud, but I know that I got it thanks to the help and support of all my teammates. Thanks to them we have arrived to the Final Four and thanks to them we expect to keep going forward."
Translation: Yadda, yadda, yadda. Screw the Minnesota Timberwolves and their cold @ss weather for now.
Rubio will be presented with the Rising Star Trophy at the Euroleague Basketball Awards Ceremony on May 8 in Paris.