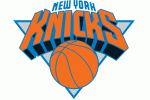 The New York Knicks have signed free agent center Earl Barron to a 10-day contract.
The team announced the move before Friday night's road game against the Golden State Warriors. Barron had been playing for Iowa in the NBA Development League.
The 7-footer was averaging 16.2 points and 10.2 rebounds for Iowa. He previously had played 82 games over three seasons with the Miami Heat before spending the past two seasons in the Development League. He averaged 4.9 points and 3.0 rebounds for Miami.