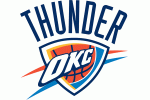 Oklahoma City Thunder rookie James Harden will be sidelined for up to four weeks, due to a strained hamstring.
"It's one of those things where I could take this time to rest and just get back and healthy and as soon as I get back just come with that energy," Harden said.
The injury occurred when Harden landed awkwardly after a drive to the basket against New Orleans on his right leg. Kyle Weaver from the Tulsa 66ers was called up to fill the roster spot on Friday. Harden should return for the final week of the regular season and be healthy for the playoffs.
H/N The Oklahoman