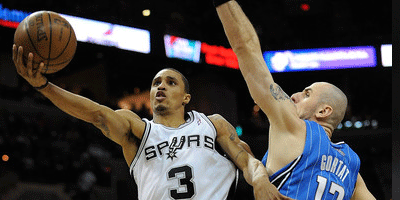 NBA players are taking pictures of their junk and sharing them via Multimedia Messaging Service at an alarming rate.
Last week, nude pictures of Greg Oden leaked onto the web reveling he still had one uninjured leg and this week, George Hill of the Spurs played show and tell with the ladies as au naturel pics of him hit the interweb via thedirty.com.
"A year ago, I made a mistake and take full responsibility for my actions," Hill, 23, said in a statement through the Spurs on Tuesday. "I have matured and learned from this episode. I would like to apologize to my girlfriend, my family, all of our great fans and the Spurs organization."
Meanwhile the Spurs have lawyered up attempting to have the photos of Hill removed, but so far in return all thedirty.com has done is show the Spurs their junk stating through their lawyer "Trademark law does not apply to criticism of celebrities making fools of themselves,". Touche.
Call me crazy, but it would seem that if you don't want to apologize for pictures of your junk leaking onto the Internet, you should really stop taking pictures of your junk, just look down because it isn't going anywhere. Plus, maybe I don't have full access to the latest in millionaire technology, but I'm pretty sure that you can't make coitus via text or e-mail so what's the damn point.
Lets see who's apologizing next week. If Shawn Kemp was still in the league, I'd bet my house on him.