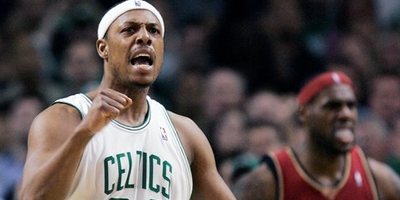 The early bad news is that Paul Pierce could have a broken foot and will miss significant time. The early good news if you snowboard, is that both Wiarton Willie and Punxsutawney Phil saw their respective shadows meaning no early spring. Yes, all Ray Allen trade rumors did just grinding to a caliper busting stop.
The injury appears more serious than a sprain — NBA.com's David Aldridge wrote that a source told him it "looks that way" when asked if Pierce has a broken foot, and Channel 7 is reporting that Pierce will miss significant time. He is expected to have the foot re-examined before any information is released. Celtics president of basketball operations Danny Ainge told Comcast SportsNet's Gary Tanguay  this afternoon that the team is still determining the diagnosis and Pierce's status.

"We just don't know," he said. "We basically don't know the extent of the injury. The doctors don't have all the information to make the decision. We expect to make an announcement tomorrow."
Cheer up Celtics fans, at least you can still schedule that late snowboarding trip to Vermont.
H/N Boston Globe