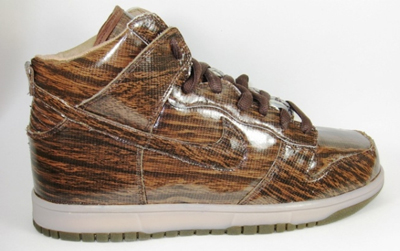 If you ever wanted to walk around with morning wood all day to impress the ladies, now you can — with the Nike Dunk Morning Wood high customs. Where the hell did you think that was going???
Designed by EmmanueLabor who clearly has a sense of humor only rivaled by his creativity. The Nike Dunk Morning Wood, has a woodgrain pattern upper with a Murphy's Oil like sparkling gloss to them and they're waterproof too. However you can only snag these in size 10 and it'll set you back $400, but that's a small price to pay to have morning wood.
Just ask your Grandpa.