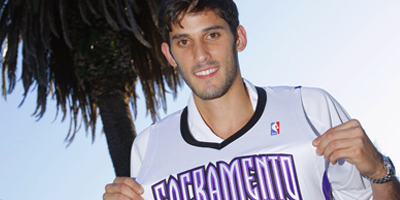 When the Kings selected Omri Casspi with the 23rd pick in the '08-09 NBA draft, Casspi became the first Israeli born player to make it to the NBA — and maybe the first sniper too.
"He was a sniper in the Israeli army, so how much pressure can be on him now?" said Scotty Sterling, the Kings' scouting director. "He wasn't in combat, but he said they taught him to shoot a rifle. But he said he'd rather shoot a basketball than a rifle."

Casspi quickly corrects the record, saying he wasn't a sniper. Still, the story has been making the rounds."I don't know where that rumor started," Casspi said. "I wasn't a sniper. It's not true. I was in basic training. But I did hold a gun, and I shot a lot."
Sacramento selected Casspi because of his athleticism and smarts he displayed for the World Select Team at the 2007 Nike Hoop Summit. But I'm thinking the sniper rumor totally put him over the top for the Kings.
via Jewish Journal