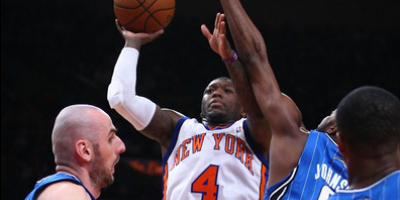 The New York Knicks and guard Nate Robinson have reportedly agreed to a one-year deal on Wednesday.
Newsday.com is reporting that Robinson will be signed to a deal later on Wednesday and that he will get more than his $2.9 million qualifying offer along with performance bonuses.
Last season in New York he appeared in 74 games (11 starts) and averaged 17.2 points, 4.1 assists and 3.9 rebounds while averaging close to 25 minutes.
Over his four seasons in the NBA, all with New York, he has averaged 12.4 points, 2.9 rebounds and 2.7 assists over 282 games.