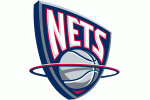 In his first full season in New Jersey Devin Harris emerged as an All Star, averaging 21.3 points per game and nearly 7 assists a night for a 34-win team. Now it looks like the Nets could be willing to part ways with the 26-year old point guard to improve their position in next week's NBA draft.
According to a report in the Memphis Commercial Appeal, the Memphis Grizzlies have fielded offers for the No. 2 pick in the draft, and the Nets might be willing to part ways Harris for that slot in the draft.
If that deal came together, the Nets would have the second and eleventh picks in the draft. They have no second-round selections.