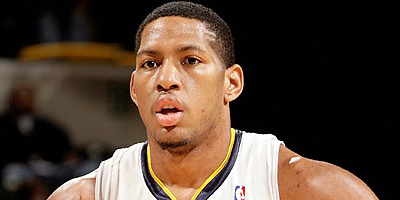 Danny Granger told a storybook tale of how he learned he'd been selected the NBA's Most Improved Player.
The Indiana Pacers star offered a picturesque image of riding in a gondola in Venice, Italy, with one hand in the water and wind blowing through his hair.
Much of that was indeed a story — he was in Venice, but in his hotel room instead of a boat when he heard the news. Upon coming clean at a news conference on Tuesday, those in the room broke into laughter.
"I can honestly say it really did come as a surprise," he said. "I really had it out of my mind for a while. I was on vacation, enjoying Italy, and all of a sudden, I'm winning the award."
He edged New Jersey Nets guard Devin Harris 364-339 in voting from a panel of 121 journalists. Oklahoma City's Kevin Durant was third with 83 points.