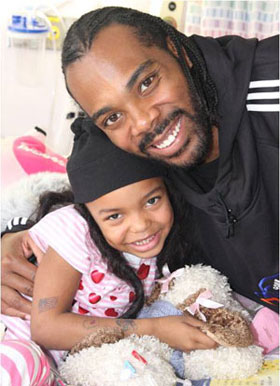 A great story from Alan Hahn of The Knicks Fix, about a few NBA players getting together to save a small girls life.
Chris Wilcox has a new friend named Jasmina. She just turned 6 years old today (same age as my son, Zach) and aside from being adorable, she has leukemia. She has a rare and agressive form of it, which was diagnosed on Jan. 20. Her doctors say she needs a bone marrow transplant now or Jasmina will die.
Chris met Jasmina last week, when he visited her in the hospital with a Build-A-Bear. She has her own website, oneforjasmina.com, which I encourage you all to visit.
"I have a sister who suffers from Lupus so, unfortunately, she is in and out of the hospital and has undergone chemotherapy," he said. "I just can't bear to see a six year old who literally could die if we don't find her a match soon."
What Jasmina desperately needs is a bone marrow donor. The issue is, Jasmina was adopted so she does not have any full siblings, which would provide the needed perfect match. Dr. William L. Carroll, Jasmina's doctor at NYU Medical Center, said the situation is even more of a challenge because, "African-Americans are under-represented in the donor base thus finding the perfect match even harder."
"It's not an organ that she needs, it is blood cells," Wilcox said. "It could be any one of us that could save her life."
Literally.
To help Jasmina's cause and, hopefully, find that perfect donor she so desperately needs, Wilcox is promoting a Bone Marrow Donor Drive that will be run by DKMS Americas this Saturday (March 7) between 10 a.m. and 2 p.m. at PS 41 on 116 West 11th Street in Manhattan. Fixers, especially those of you who are African-American, please take time out of your day and possibly save another human life.
If you can't make it there please go to Jasmina's website and get more information on how you can go through the very simple – and absolutely painless – procedure to find out if you would be a perfect match for Jasmina. Or maybe someone else like her.
According to DKMS Americas, the donation process is also far more simple than you think: "There are two ways to donate," the organization explains. "Seventy-to-eighty percent of the time, stem cells are collected from the donors' blood, similar to donating plasma. Twenty-to-thirty percent of the time bone marrow is withdrawn from the hip (not spine) using a special syringe. It is an out-patient procedure done with local or general anesthesia."
To find out more information, go to the DKMS Americas website here.
Wilcox joins with other NBA stars, such as Paul Pierce and Tyson Chandler, and singer Rhianna, who have taken up Jasmina's cause.
Via  Knicks Fix + A Hat Tip to Ball Don't Lie