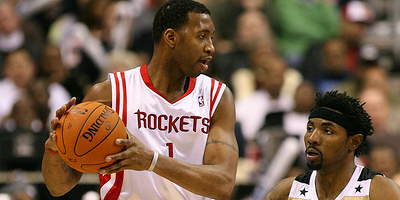 Bad just went to worse for seven-time All-Star Tracy McGrady, and his season will be cut short due to his wonky left knee that requires season ending microfracture surgery.
McGrady had arthroscopic surgery on the same knee less than 11 months ago and has been a shade of his former athletic self having his worst season as a pro since the 99 -00 season.
"The last couple of games, I've regressed," McGrady said during halftime of last Wednesday's game. "I've felt pain."
On Tuesday, T-Mac's name was tossed around in a trade scenario sending him to the Nets for Vince Carter but, the Nets were said to be "leery" of the sketchy health of McGrady.
Anytime you're considered more of an injury risk than Vince Carter –um ya, it's not good!
Via ESPN