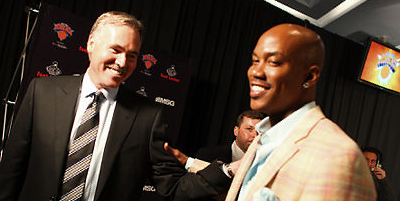 Stephon Marbury is making $21.9 million this year and if you ask me he's getting ripped off.  He could easily double-his-double; if he had a reality show with free Starbury sneaker ads.  You can call Marbury a lot of things but, uninteresting is not one of them. I would say, they are just as much words written about Marbury every day, as their are words written about LeBron James possibly coming to New York. Actually… probably more.  
As both a basketball fan and TED supporter.The latest quotes from Marbury are almost as fascinating to me as a lecture from Jill Bolte Taylor.
"When things got bad and then worse, guys like Quentin Richardson say, 'I don't consider him a teammate. He let his teammates out to dry.' He didn't care I was his teammate when I was banished," Marbury said. "They left me out for dead. It's like we're in a foxhole and I'm facing the other way. If I got shot in the head, at least you want to get shot by the enemy. I got shot in the head by my own guys in my foxhole. And they didn't even give me an honorable death."
In a way it's kinda like we are watching Stephon Marbury's career through a stroke in the form of Mike D'Antoni. How did a 19.7ppg, 7.8 apg guy averaging 38.2 minutes per game player; who has never come off the bench in 812 games in 12 seasons; all of a sudden go to 0 minutes a game, averaging 0 points, and 0 assists? Now all of a sudden, need to re-learn a game he's played his whole life; according to D'Antoni and to a lesser extent Donnie Walsh? 
If you want to trade a guy, you showcase him and hope somebody bites (i.e Vince Carter in Toronto). At least he could play himself out of town with some talent  or oragnes in return(i.e Vince Carter out of Toronto) . The worst that could happen is, he plays well; you're paying him anyways. If he has talent and you tell him he can't play; and you won't buy him out. Then expect an organizational blood vessel blockage to the brain, that disrupts team harmony, and the explosion of damages to follow; when you all of a sudden expect him to play. Marbury cannot even process playing for the Knicks now. 
I blame the Knicks for the "issue" that is Marbury. They have convinced him that he can't do what they paid him for, and now they have to deal with it. Today they Knicks brass are supposed to come to a decision on Marbury's fate. If they don't buy him out  for the season immediately, I officially call shenanigans on Walsh and D'Antoni; and somebody should check their brain to examine why they really don't want this issue solved.