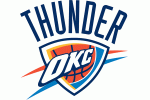 The Oklahoma City Thunder signed 7-foot center Steven Hill on Tuesday to fill out the roster.
Hill played in three preseason games for Portland and was among the Trail Blazers' final cuts. His signing comes a day after the Thunder waived guard John Lucas III.
Hill averaged 4.2 points, 2.9 rebounds and 2.1 blocked shots as a senior at Arkansas last year. As a junior, he was chosen the Southeastern Conference's defensive player of the year.