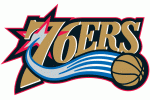 The Philadelphia 76ers and swingman Andre Iguodala agreed to a six-year, $80 million contract, according to a report by ESPN on Tuesday.
One of the most athletic players in the league, the 24-year-old Iguodala was an unrestricted free agent. If the two sides had failed to come to an agreement on a long-term deal, Iguodala could have signed a qualifying offer and become a unrestricted free agent after the 2008-09 season.
Instead, Philadelphia locked up its best player and has the look of a team that will be a contender in the Eastern Conference for years to come. The Sixers also signed free-agent forward Elton Brand to a five-year deal worth a reported $82 million earlier this offseason.
UPDATE:  Hold the phone, this deal is still in the works according to the Philadelphia Daily News