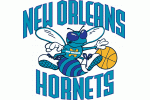 Superstar guard Chris Paul has signed a three-year extension with the New Orleans Hornets.
Lance Young, Paul's agent, had travelled earlier this week to New Orleans in hopes of working out a deal quickly, and Thursday he announced the agreement had been reached.
Paul will get a total of $68 million US during the life of the deal, one that includes a fourth season at the team's option.
The guard, who has one year remaining on his current deal, was outstanding last season, leading the NBA in assists (11.6 a game) and steals (2.7), while finishing as the Hornets' top scorer with a 21.1 average.