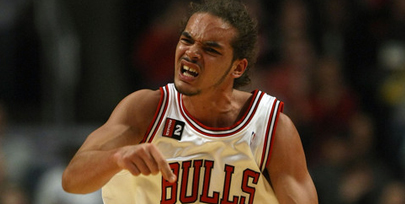 Basketball party time is here, I just forgot to invite the pivots to the shindig. What can I say, I'm a very busy blogger these days. Once again players have things to prove on the hardwood, but who are the best players in the league at each position on a nightly basis in the '10-11 season? With your mind and excel sheet ablaze trying to figure that riddle out to no end.
Here's my list of who the Top 5 players in the league are by position going into the '10-11 season.
Today, we talk centers — finally.
5. Al Jefferson
09-10 Stats: 17.1 PPG / 1.3 BLK / 9.3 RPG / 0.8 SPG / .498 FG%
Jefferson is a legit center in the league that makes playing the center position look easy. If he can stay healthy, expect him to climb this list next season.
4. Al Horford
09-10 Stats: 14.2 PPG / 1.1 BLK / 9.9 RPG / 0.7 SPG / .551 FG%
He's undersized in the middle at 6'10 and 246 pounds, but what he lacks in size he makes up in nastiness.
3. Joakim Noah
09-10 Stats: 10.7.1 PPG / 1.6 BLK / 11.0 RPG / 0.5 SPG / .504 FG%
You just can't teach the hustle Noah has and when he's in the game it's pretty hard to miss him on both ends. Dude has his nose in every single play!
2. Andrew Bogut
09-10 Stats: 15.9.0 PPG / 2.7 BLK / 10.2 RPG / 0.6 SPG / .520 FG%
When his arm isn't mangled in the grossest fall I've ever witnessed in a game. Bogut is mustard! Not only can this Aussie score and rebound, but he also has never met a shot that he didn't want to block and every coach loves that in a good pivot.
1. Dwight Howard
09-10 Stats: 18.3 PPG / 2.8 BLK / 13.2 RPG / 0.9 SPG / .612 FG%
Legends like Patrick Ewing and Hakeem Abdul Olajuwon have been helping Howard polish his offense game and so far, so good for the man-child back into the 20-10 club. Expect him to hoard this number one spot for many years to come easily.