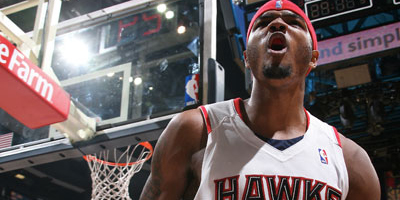 Basketball party time is just around the corner and once again players have things to prove on the hardwood. But who are the best players in the league at each position on a nightly basis in the '10-11 season? With your mind and excel sheet ablaze trying to figure that riddle out to no end.
Here's my list of who the Top 5 players in the league are by position going into the '10-11 season.
Today, we talk power fowards.
5. David Lee
09-10 Stats: 20.2 PPG / 3.6 APG / 11.7 RPG / 1.0 SPG / .545 FG%
No other forward has racked up more double-doubles than David Lee over the last two years and in Golden State, this pace won't slow up.
4. Josh Smith
09-10 Stats: 15.7 PPG / 4.2 APG / 8.7 RPG / 1.6 SPG / .505 FG%
When he feels like playing basketball, he's an athletic freak and stat book stuffer. The time is right for him to meet his potential on the hardwood nightly and a double-double average should be in his future..
3. Amare Stoudemire
09-10 Stats: 23.1 PPG / 1.0 APG / 8.9 RPG / 0.6 SPG / .545 FG%
He was one of the Top 5 free agents available on the market this summer and he decided to join New York to accept the challenge of playing for a team Isaiah Thomas once tried to ruined. Despite his break up with Nash, STAT will have a near career season.
2. Dirk Nowitzki
09-10 Stats: 25.0 PPG / 2.7 APG / 7.7 RPG / 0.9 SPG / .481 FG%
Ridiculous stats, yes! Important wins in tight games that really mean something — no. Dirk has been the face of Dallas for a very longtime and in the 12 seasons since he joined Dallas, he's impressed us all individually each season.
1. Pau Gasol
09-10 Stats: 18.3 PPG / 3.4 APG / 11.3 RPG / 0.6 SPG / .536 FG%
Best power forward in the league bar none and he's only getting better.Straight up!