Hooped Up | August 18, 2010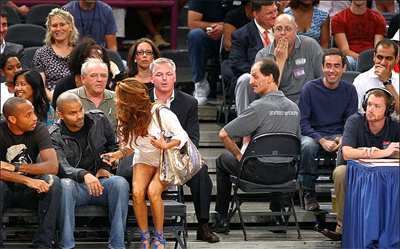 Courtside basketball seats have their privileges. You get to see the raw power the athletes are blessed with, people get you stuff, you get to hear players swear (KG I'm looking at you), plus you can take pictures with your iPhone as a souvenir and — oh yeah, you get to ogle the derrière of Tony Parker's wife Eva Longoria too like these "gents" did at the France vs. USA game for the World Basketball Festival in Madison Square Garden.
If you ask these dudes who won the game they would respond "they did" I bet.