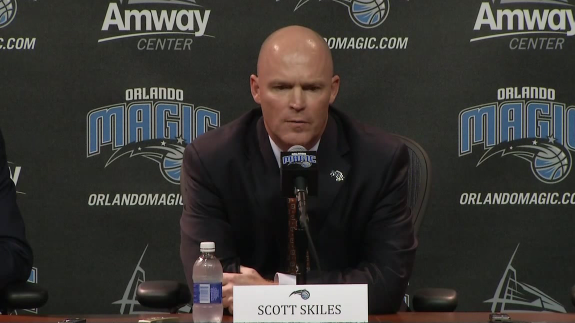 The Orlando Magic have named former franchise player Scott Skiles as their new head coach and held a press conference to introduce him to the Orlando media.
"Scott clearly distinguished himself as a tremendous fit,'' General Manager Rob Hennigan said. "Our young roster will benefit greatly from Scott's extensive head coaching experience and commitment to teaching smart, physical, unselfish basketball. We believe in Scott's ability to establish a culture of winning habits and accountability that will help guide our team in a positive direction.''
Skiles has a NBA regular-season record of 443-433 (.506) as head coach with the Suns, Bulls and Bucks. During his 13 seasons as a head coach, his teams have reached the NBA Playoffs six times.
"As we began our search, our internal discussions centered on finding a head coach with a solid resume of NBA head coaching experience, great leadership qualities, a motivating communication style, and someone with a strong strategic acumen,'' Magic CEO Alex Martins said. "We feel Scott brings a balanced approach in all those qualities and we look forward, with great confidence, to him leading our young men in helping us reach our collective goal of sustainable success."