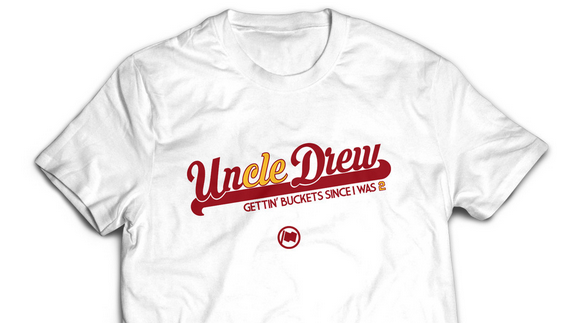 Saluting the alter ego of Cleveland Cavaliers guard Kyrie Irving. This Loyal to a Tee 'Uncle Drew' t-shirt are for those who get buckets, rain or shine, young or old, Pepsi or no Pepsi. Here is the Uncle Drew story:
"Once upon a time, there was young Drew. He knew one thing and one thing only – how to get buckets. He was a standout at Eastern and broke the college record for buckets in a game. He was destined for greatness until he had a career-ending injury that crushed his dreams on becoming a pro.
Half a century later, Uncle Drew stepped back onto the basketball court for a pick-up game. It wasn't long before he proved to them young bloods that he still gets buckets. Not much has really changed for Uncle Drew, he'll get buckets and remind you "don't reach, young blood".
Cop yours today at loyaltoatee.com.