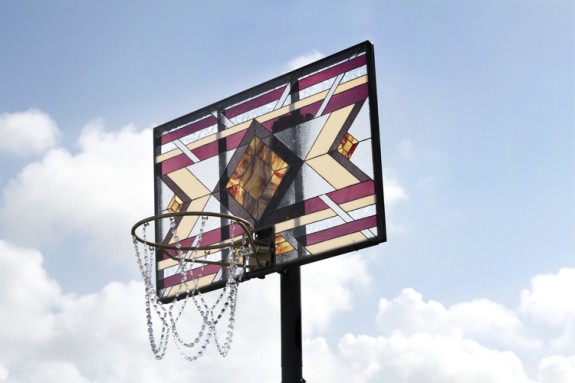 At the intersection of fine art and basketball sits these three "Literally Balling" backboards, that look like they predate Dr.James Naismith himself. More from Literally Balling.
"Literally Balling" is an exploration into the aesthetic convergence of historical opulence and our modern day kings of court. These stained glass backboards, painstakingly rendered in the traditional "Tiffany-Style" began as a joke, but have tapped the zeitgeist – basketball as grounds for a new cultural and artistic epoch.
Each design requires over 100 hours of precise labor: from design, to shaping and cutting the glass, to meticulous soldering, gold-plating the rim, hand weaving the customized net, fabricating the frame and mounting – every detail poured over in pursuit of perfection."
Need.One.Now!!!!