With even fancier free tees than last year. Drake Night made a triumphant return to the Air Canada Center, featuring a matchup between the Toronto Raptors and rival-ish Brooklyn Nets. I have no idea if Drizzy passed out rare Air Jordan shoes at halftime again, but things certainly kicked off Drake style with his humorous take on the traditional player intros.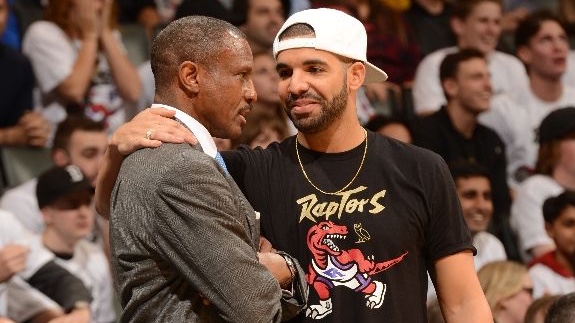 The intro breakdown:
Jonas Valanciunas: "We've given him the street moniker of Big Science."
Amir Johnson: "He recently got a tattoo of a Swiffer WetJet."
Terrence Ross: "He moonlights as West Coast rapper Kurupt."
Landry Fields: "We realized tonight we share the same family."
Kyle Lowry: "He's the baby-face assassin."
Coach Dwane Casey: "The best-dressed man in the NBA."
Note to self, stop missing Drake Night.