Kobe Bryant is back and his first Lakers practice since last season with new head coach Byron Scott was highlighted by running, running and more running.
"It was great. One of the best practices I've been fortunate to be a part of. There was a lot of running. Probably the most running I've ever done in a practice since I've been in the league. I love it, it was hard. We just ran, and ran, and then ran some more.
We want to be in tip-top shape. There is a certain seriousness that comes along when you have practices like this. You show up to practice, guys are excited about the season, laughing and joking, ready to get going, and all of a sudden, fifteen minutes into the practice, nobody was smiling anymore, everybody is thinking about surviving at that point."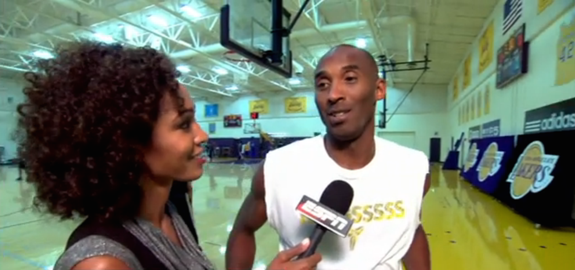 Bryant also discussed needing to play with some rage.
"I've always played with a certain amount of rage. We do have a chip on our shoulder, we feel we have a lot to prove, most of it is to ourselves. We all come into situations where teams might feel we're not good enough or that we have been forgotten about."
And about the third "R" listed in the title.
"It's been a heck of a journey; this has certainly been the foundation of what I do. It's not who I am but it's what I do. I love it tremendously, I've been extremely blessed, but I would be lying if I said I wasn't a little nervous maybe about the end. But also extremely excited about the challenge that it presents."
"You don't know what lurks ahead, when you first start the journey of wanting to become a basketball player you are a little nervous too, because you don't know if it's going to work out, how it's going to work out, when, to have those questions there again, it's extremely exciting."