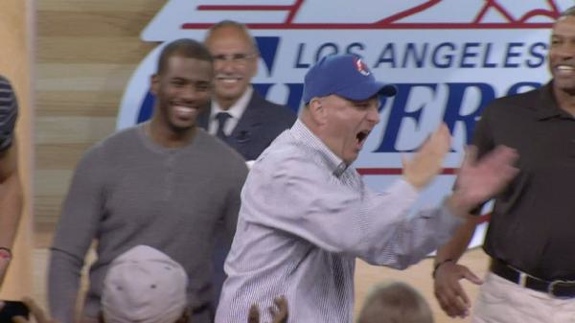 Billionaire and Don Sterling slayer Steve Ballmer official took ownership of the Clippers recently and celebrated at his first fan rally. Ballmer yelled, screamed, shouted and gave out full body high-fives to nearly everyone in the building to express his excitement. With the Clippers team and Doc Rivers on stage for his high decibel speech. Ballmer laid out his plan for the new direction for the reborn Clippers.
"We're going to be bold. Bold means taking chances," he said. "We're going to be optimistic. We're going to be hard-core. Nothing gets in our way, boom! The hard-core Clippers, that's us."
If you needed anymore reason to watch Lob City do it's thing. Seeing Ballmer going crazy like a spider monkey on the sideline after a Griffin dunk should do the trick.