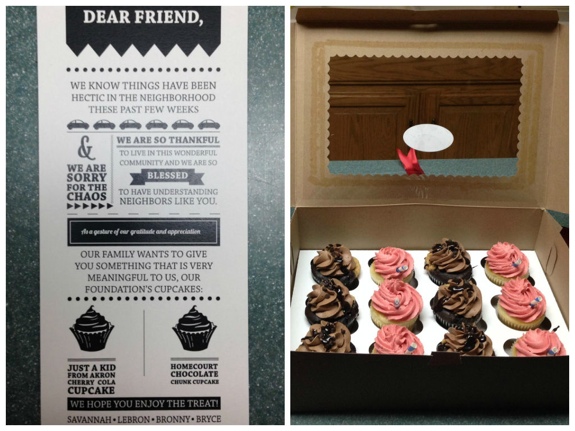 The LeBron James PR camp just keeps winning. To apologize for the spectacle of James' impending announcement to return to the Cavaliers. Which included fans camped outside his Bath Township and police patrolling his residence. The James family sent out cupcakes to his neighbors with a note as a peace offering.
"The cupcakes James sent were from the LeBron James Family Foundation and were created at Baker Blvd. Decadent Desserts in Fairlawn. Each box reportedly contained six "Just A Kid From Akron Cherry Cola" cupcakes and six "Homecourt Chocolate Chunk" cupcakes."
LeBron sends cupcakes to neighbors, apologizes for traffic http://t.co/p1hLorsKdv pic.twitter.com/0KitVVT2hS

— darren rovell (@darrenrovell) July 23, 2014
The note attached to cupcakes LeBron gave to neighbors (H/T @DavidG_House, @JonCheyney) pic.twitter.com/AyNl4gubpa

— darren rovell (@darrenrovell) July 23, 2014
Stay classy LeBron.