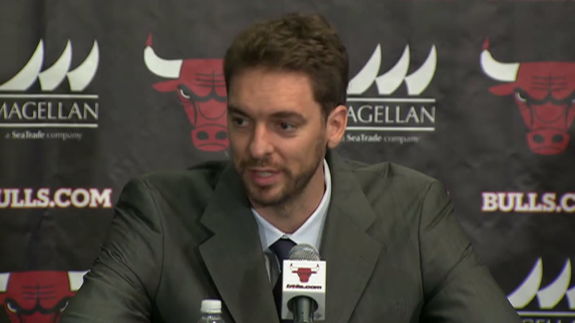 The Bulls introduced Pau Gasol to the media this past weekend and the former Lakers sounded optimistic about bringing his career averages of 18.3 ppg, 9.2 rpg, 3.3 apg, 1.64 bpg and 0.54 spg to the Windy City.
I've just signed my contract with the #Bulls. Ready to start this new experience, giving my all for the team and fighting for titles

— Pau Gasol (@paugasol) July 18, 2014
Gasol on joining the Bulls: "It's an honor. I'm proud to be part of an organization where so many great people have contributed." — Chicago Bulls (@chicagobulls) July 18, 2014
Gasol: "Money obviously wasn't the priority. I turned down bigger offers and I prioritized being on a championship caliber team."

— Chicago Bulls (@chicagobulls) July 18, 2014
In postseason play, the 34-year old Gasol has appeared in 105 (all starts) playoff games and posted 17.2 ppg, 9.7 rpg, 3.4 apg, 1.97 bpg, 0.56 spg, .515 from the floor and .738 from the stripe in 38.6 mpg.