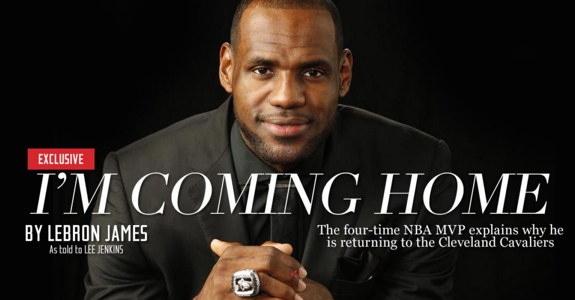 The wait is over and LeBron James has decided to return to the Cleveland Cavaliers. The announceent was made via an essay James wrote for SI.com entitled "I'm Coming Home." In the piece written by James, it was clear he missed his homestate of Ohio.
"Before anyone ever cared where I would play basketball, I was a kid from Northeast Ohio. It's where I walked. It's where I ran. It's where I cried. It's where I bled. It holds a special place in my heart. People there have seen me grow up. I sometimes feel like I'm their son. Their passion can be overwhelming. But it drives me. I want to give them hope when I can. I want to inspire them when I can. My relationship with Northeast Ohio is bigger than basketball. I didn't realize that four years ago. I do now."
He also posted this picture on Instagram.
Welcome Home @kingjames. I am excited for the fans and people of Cleveland and Ohio. No fans and people deserve a winner more than them…..

— Dan Gilbert (@cavsdan) July 11, 2014
The upcoming NBA season is gonna be a wild one.