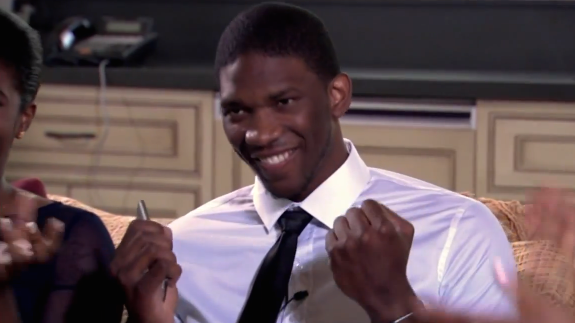 Despite a slightly worrisome back and foot injury heading into the draft. The Sixers rolled the dice for the second straight year and selected another fractured big man in Joel Embiid who played alongside Andrew Wiggins at Kansas.
"It is different. Disappointed, I wish I could be there," Embiid said in an interview during ESPN's draft broadcast. "But I'm excited the Sixers took me. I still can't believe it. I started playing basketball so late, it just means that anything is possible. …
"For my back injury, it hurt me. But I saw the doctors and they said I was going to be fine. And unfortunately this foot injury happened a week before the draft. But I believe in God and God knew what he was doing, I've always said that and I'm going to just keep praising him."
Depending on how well he heals from foot surgery, Embiid should be able to play for the Sixers at some point this season. Hopefully.